Where to Live in Boston
Choosing where to live in Boston is a matter of finding the neighborhood right for you. Our Realtors are local experts who live and work in the city and one of their focuses is an intimate knowledge of Boston neighborhoods.
When determining where to live in Boston, keep your lifestyle in mind. Would you be happiest in a condo situated a short walk from work in a vibrant urban area filled with street life, coffee shops, and restaurants? Would you trade walkability for a commute and more space? Or do you want the best of both worlds? Whatever your needs, the Realtors of Matthew and Alisa Group Real Estate are here to help.
Our site was designed with one thing in mind: optimizing the search for a home and a neighborhood fitting your lifestyle. The detailed property listing of each property is accompanied by information from Zillow, education.com, and Walk Score; the combination gives you an overview of the neighborhood and schools as well as the distance to the closest restaurant, public transportation, coffee shop, grocery store, dry cleaner, gym, and more.
Our real estate agents are always available for a personal consultation and the advise a website can't offer. If you prefer to start the search on your own, the links below will take you to pages with more detailed information on Boston's neighborhoods and direct links to real estate listings.
South End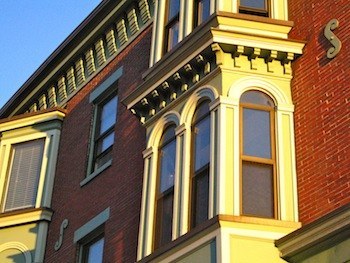 The South End is a vibrant and diverse neighborhood known for its restaurant scene and uniform bow-front brownstones. Many of the architectural masterpieces are located around elliptical parks known as squares, a feature distinct to Boston's South End.
Back Bay
Boston's Back Bay features some of the largest and most exclusive mansions in the city of Boston. Many of these grand homes line Commonwealth Avenue, designed in the style of a boulevard, a mall housing memorial sculptures running down the street's center.
Beacon Hill
Beacon Hill is located on the lone remaining hill of the three hills that once made up Boston's topography. The area is known for federal-style row houses, gas-lit street lanterns, and brick sidewalks. It is also known as one of the most expensive neighborhoods in Boston.
Bay Village
Bay Village is one of the smallest and least-known neighborhoods in the city of Boston. Artisans who built many of the mansions in Boston's wealthiest neighborhoods built the homes in Bay Village as their own. For this reason the buildings are on a more modest scale than the toniest areas of the city.
We also recommend these resources when trying to match a lifestyle with a neighborhood or when trying to get a better feel for an area:
Picket Report - Information on schools, lifestyle demographics, crime, and neighborhood amenities.
MapQuest Vibe - Ranks neighborhoods by various criteria and details what each neighborhood has to offer.
NabeWise - Compares and ranks neighborhoods based on trendiness, resident demographics, schools, reputation, parking, and many other categories.
Sperling's Best Places - Choose two cities you want to compare and the site provides census-like information of both locations in a side-by-side format. Data on the United States as a whole is also provided to offer more context.